PAST SHOWS
Joana Stillwell and Michael King
February 5th, 2014 - March 5th, 2014
Opening Reception: February 5th, 2014 6-8PM



"Beats per Minute" by Joana Stillwell
I work primarily in video, photography, and installation. I am interested in childhood, domestic spaces, and playful materials. During moments of downtime, I use these materials to perform meditative examinations. It becomes a dialogue between myself, the material, it's functions, and connotations. Through a semiautobiographical perspective, I aim to address a breadth of personhood including elements of idealization, balance, anxiety, and control.


Assorted Art Work by Michael King
My collage work is about associations and often overlooked connections. They begin with an immediate juxtaposition and evolve along the irreverent paths of my subconscious. Together they create a Dada inspired visual language, and while each one of them is part of a series, they have their own story to tell.
SOFYA BELINSKAYA
3 -31 October 2013
Sofya Belinskaya immigrated to America from Ukraine in 1999. Since then, she has pursued her working passion in visual arts which may have originated in the break of language and communication. Her work focuses on the human figure, how it relates to itself, its identity and the ways which the viewer relates to its representations.
She received her Bachelor of Fine Arts from the School of the Museum of Fine Arts, Boston in 2011. She currently lives and works in Seattle, WA.

http://sofyabelinskaya.com/home.html
Dalton Brink, Kelley Farley, & Vida Rose
January 6- January 31

Uploaded with ImageShack.us
Upcoming 2013 Art Gallery Artists
July - November 2012
December: Jeff Blucher, Stephanie Scott, & Karissa Patterson
January: Dalton Brink, Kelley Farley, & Vida Rose
Starheadboy & Narboo
Nov. 2- Nov. 28
October: Joan Bowers, Emily Joseph, Thendara Kida-gee
Oct. 1- Oct. 28

Thendara Kida-Gee, Emily Joseph, & Joan Bowers
September: Diversity In Screenprint
Sept. 1- Sept. 28
September's showcase featured an immense variety of pieces from Vera's own Screenprint department. There was a giant giraffe, an exquisite corpse, & a ton of gorgeous prints from instructors of our Screenprint classes. Make sure and check out our upcoming classes!
August: Celebrating 10 Years of All Ages Music
Aug. 1- Aug. 28
Our August showcase was a celebration of 10 years since the repeal of the Teen Dance Ordinance. For more info., please visit Dancing On Your Politics
May Show: Ghost Ghost Teeth
may 9-May 22 2012

Mural by ghostghostteeth
July Showcase: Brian Britigan, Alice Case, & South Shore Robotic Arts
July 3- July 30

Checking out Brian Britigan's work at the reception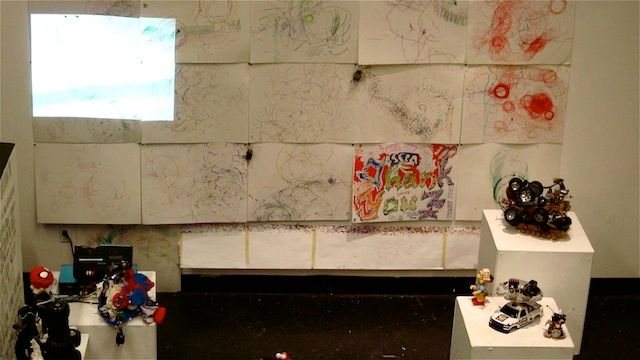 South Shore Robotic Arts
June Gallery Show: NOVA High School Recap
June 10-June 27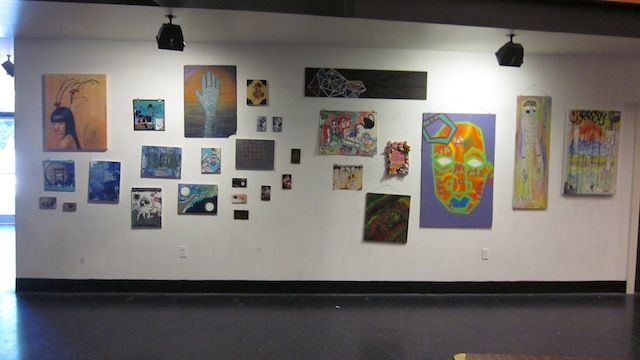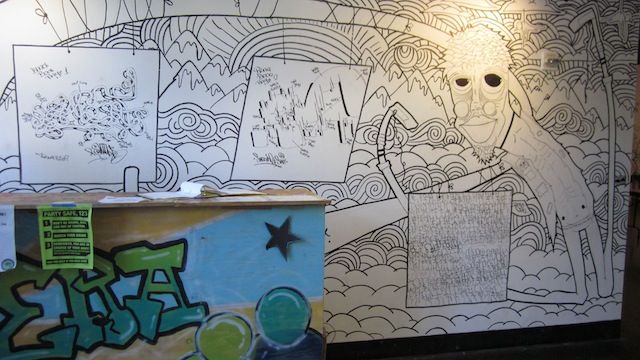 Entrance Mural done by students at Nova High School
Ver[A]rt Gallery June Exhibition: The Nova Show
June 10-June 27
Nova High School art on show @ The Vera Project gallery. It's a wild mix of graffiti, illustration, and wall drawing.
Show Opening is June-10 at 5pm.
Nova High School Art Program presents a showcase where diversity in art, process, ideation, and creation coming together. Check out the reception to see a stop-motion digital-short and Vera's cool, new wall; designed and drawn by Nova artists.
May Show: Swimming Trough Fevered Dreams by Ghost Ghost Teeth
May 9-May 22 2012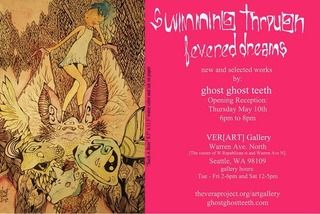 Show Opening is May 10 @6pm
Ghost Ghost Teeth aka Simon Tran is a Long Beach Born artist. He is a self taught artist whose paintings have a wildly colorful and playful appeal on the surface. But on closer inspection, the color is a thin shell subduing a turbulent ebb and flow of chaos and tranquility. Ghost Ghost Teeth's influences are his daughter, Punk, and children's illustrations from the 1960's.
Ghost Ghost Teeth has done several murals around Los Angeles including Pehrspace, Home Room Gallery, and The Strange Gallery. He also works as a freelance illustrator who's clients include Culdesac Kids Records, KPFK 90.7 fm, and Galleano Winery. "Swimming Through Fevered Dreams" is an attempt to connect to the unconsciousness. This collection of paintings takes the viewer for a dive into the dark ends of anxiety and childhood repression that lurks in the mind, but submerges through cathartic revelation. Ghost Ghost Teeth illustrates these dreamlike environments through cryptic imagery alongside whimsical characters.
For more info please check out: www.ghostghostteeth.com
Realizing a Vision: Seattle Girls' School
April 4-April 28 2012
Take a fun stroll through the candy-colored mind of the youthful artist. This month at Vera, Seattle Girls' School 8th grade artists present a sparkling range of work featuring bold prints, wild colors, and experimental outfits to brighten the spirits. The 8th Grade art experience at SGS is unlike most 8th grade art curricula. After three years of building foundational skills in drawing, painting, sculpture, etc., the girls are given absolute freedom to develop an independent body of work. Resident Artist, Kyle Cook, says "the girls were extremely joyful learners. There was rarely a class without laughter and an exuberant energy." They dug deeply within themselves as they articulated their vision…and a beautiful vision it is! Show is through the end of the April.
Sabe Lewellyn and Joseph Steininger
Mar 8-April 2 2012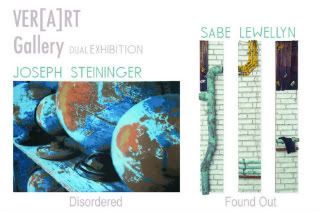 This March at Vera, city grit and discrete objects provided the common theme for an unusually diverse group of recent works by Sabe Lewellyn and Joseph Steininger.