PAST SHOWS
Sonya Stockton: Instinctual
February 7, 2012-March 7, 2012
Opening Reception is February 8, 2012 from 6-8pm.
Instinctual is a selection of very raw expressive figure drawings and paintings from the mind of Sonya Stockton. They are produced instinctively with no models, no erasing, no real planning of any sort. For Stockton the process is a way to most accurately express that inner condition which seems to defy explanation.
Camilla Maston & Monica Martinez Photography
Jan 8 - Feb 3 2012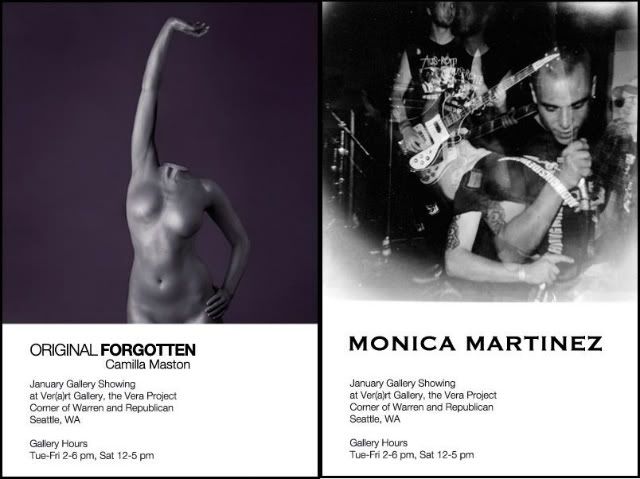 Blow Wind Blow & Alters
Dec 6 - Dec 28 2011
Art by Brandon Vosika and Glenn Tramantano
A Tale of Two Sisters
Oct. 4 - Oct. 27 2011



Upcoming Shows
NOV: 206 Zulu for HipHop History Month!
DEC: Brandon Vosika & Glenn Tramantano
A Painter, A Printer, & A Sculptor Walk into a Bar
Sept 9-28, 2011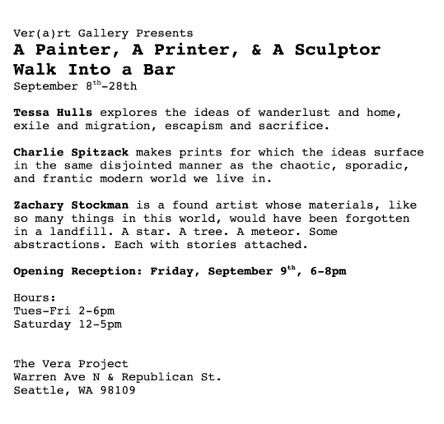 Upcoming Shows
OCT: Tory & Eroyn Franklin
NOV: 206 Zulu for HipHop History Month!
DEC: Brandon Vosika & Glenn Tramantano
Ver(a)rt Gallery is proud to present our February show, "Between the Lines"
Feb 10-Mar 3, 2011

This is a group show featuring the art of Max Berkes, Noah Collins, and Jeremy Depreist.
Join us for the opening reception on Friday, Feb. 11th, 6-8pm, which will include a live musical performance by Jeremy Depreist.
Vera's 10-Year birthday party & gallery opening
January 27, 2011
Our birthday week kicks off with a gallery opening January 27 (our actual birthday!) 7pm at The Vera Project. We will have a photo exhibit chronicling the last decade of Vera shows, events, and past locations shot by classic Vera photographers including Paula Kieko, Tom Heuser, Curt Doughty, Morgan Keuler, Chona Kassinger, Victoria Holt, Tammy Cartwright and perhaps more. Also – an interactive time-line of Vera's history which you are all encouraged to add on to, and a listening station of past Vera live shows. There will be cake. All ages and free.
An Opening Is Nothing. spatial poetry.
December 14th, 2010
Please join us for the opening of A Poem Is Nothing, an irreducible poet show. Reacting to Laura Riding Jackson's endless returns to nothing as an ethic and an engine on the virge of, and wholeheartedly opposed to, social reality. For Jackson, nothing was the poem, opposed entirely to music and art, exploding out of an unreal self, unmaking the tools and words it finds along the way, only to be realized, regrettably, by tenacious acts of criticism.
With this in mind, 4 poets were asked to show work to spatialize such a poetry of or from nothing.
The show will feature performances by James Yeary, Nico Vassilakis, and a Gaburo Ensemble from Olympia (performing Lingua II: Maledetto; performers include David Wolach, Arun Chandra, and Elizabeth Williamson)
The show features works by
Bethany Ides (NY)
Urban Subjects: Jeff Derksen, Sabine Bitter, Helmut Weber (Vancouver)
Donato Mancini (Vancouver)
Nico Vassilakis (Seattle)
Honest. A Group Show.
November 2- 27, 2010
November 2nd - 27th.
Featuring work by Jennifer Ament, Whitney Ballen and Alison Kreitzberg.
Opening Reception on November 4th, from 6-9pm. With musical performances by Whitney Ballen herself, Generifus, Cap Lori and Gazelle. Snacks are provided.
Seattle artist Jennifer Ament begins her creative process by illustrating an image to a nearly finished state and then deconstructs and reworks the illustration by creating a highly, labor-intensive linoleum cut print, each of which is usually a 2 or 3 day process…. Finishing each piece with vintage frames, these linocuts are printed in limited editions of 30 or less.(Jennifer has and will also create custom, one-of-a-kind prints. Jennifer's love of art started at an early age when she was inspired by her art teacher and eccentric relatives… Jennifer created many paintings and sculptures as a child, and even won an award or two. Recently she continued her studies at Pratt Fine Arts Center and Gage Academy Of Art. You can view Jennifer's work here: http://store.jenniferament.com/
Whitney Ballen has been a spectator of the teenagers and young adults that surround her for the past 18 years. She has collected thoughts, phrases, memories of actions, and ideas of relationships inside of her head and spilled them out onto paper. But all of these things accidentally melted onto the paper in what it looks to be; fine lines of body parts, honestwords, and water-colored fields of space. She likes to capture intimate and personal ideas that each and everyone possess into her work, some but very few her own.
You can check out Whitney's work here: http://www.whitneyballen.com
Alison Kreitzberg's photographs are multiple exposure Polaroids taken of landscapes, from places as close as the Cascades and as far away as the Grand Canyon. She has created her very own landscapes, and by using polaroid film has created one of a kind photographs that cannot be reproduced, thus creating moments which exist in their own place, outside of time and space.
You can view Alison's work at http://greenmenace.deviantart.com/
D.I.S.T.A.N.C.E
October 8-31, 2010
Opening Reception Friday, October 8 from 6-9p with DJ Michael J.Olsen and a live dance performance by Diana Garcia. Show runs October 8th through 31st.
Ver(a)rt Gallery is pleased to announce its October show, D.I.S.T.A.N.C.E with selected artists Bo Choi and Hye Young Kim, and supporting artists including Elizabeth Dean and Ross James.
Hye Young Kim received her Master of Fine Arts Degree from Washington University in St. Louis and her Bachelor of Fine Arts Degree in painting from Korea University, South Korea. She has been focusing on presenting physical and psychological human traces to understand human existence, and has exhibited her work in Davis, St. Louis, Berlin and Seoul. The artist states, "I am mapping everyday life, constantly questioning the spiritual existence of humans in contemporary society and creating awakening moment as a spiritual journey of inner-self discovery."
Bo Choi completed her MFA at UW and her undergraduate degree at University of California, Davis. Choi's MFA exhibition was at The Henry Art Gallery and she held a residency at Kulturprojekte, Berlin Germany in 2008. She examines the possibility of artistic expression through clothes and develop multiple ways to present through performance, photography, video, weaving, and sculpting. "Clothes are a removable skin, shell, and substance that hold an individual's desire on social expression and libido," states Choi.
BoomSwaggerBoom: A Visual Interpretation of the Seattle Music Scene
September 1-25, 2010
Opening Reception Saturday, September 15 from 7-9p with live music. Show runs September 1st through 25th.
Ver(a)rt is pleased to announce its September show, BoomSwaggerBoom: A Visual Interpretation of the Seattle Music Scene with a Vera Flatstock Poster Show, the Seattle Band Map, and Holographic Beast's Jeff Smith.
Jeff Smith is an artist from the very middle of Washington. He has been creating art as far back as he can remember and has been attempting to make sense of it all ever since
Keith Whiteman performs with three local bands and operates a screen print press and poster/art design company, Real Fake Productions. His poster and design work has been shown at the 2009 Seattle Theater Group Bumbershoot Poster Exhibit at Grey Gallery, the 2009 Stranger's Poster of the Week Exhibit (five pieces hung) at the Vermillion Gallery, and the Bad Ideas Art Exhibit at the Society and Co. Gallery.
Rachel Ratner is an on-air host on KEXP 90.3FM (2003–present). She has spent the past 10 years in Seattle working at record stores, booking shows, planning events, and performing with Seattle bands Partman Parthorse and Butts.
Equinox – A Group Show Presented by 206 Zulu
August 5-29, 2010
Opening Reception Thursday, August 5 from 7-9p featuring music from DJs Tecumseh and Rayzer.
Ver(a)rt is pleased to announce "Equinox," a group show presented by 206 Zulu. The Universal Zulu Nation is a pioneering force that has been in effect since the inception of Hip Hop itself (1974) and continues to represent and innovate while striving for worldwide peace, equality and empowerment.
206 Zulu, the Seattle chapter of the UZN, is a community-centered collective of activists and artists who are engaged in promoting local talent as well as mentoring youth.
Equinox is a group show about each artist's interpretations of what the zodiac means through their different cultures and perspectives.
Grip It and Rip It! with Sanctuary Art Center
June 28-July 25, 2010
Opening Reception Saturday, July 3 from 3-7p featuring demos from Skate Like A Girl and music from DJ UnME
Ver(a)rt is pleased to announce its July show, featuring art from thirty-six artists related to the artistic component of current skateboard culture in a variety of mediums curated by Jaimee Garbacik and Corby Baker. Featured artists include Chris Sheridan, Joe Vollan, Jeffrey Taylor, DS9, Ruckus Boards, Corbus boards, 179 and many more. Local organization Skate Like A Girl will be performing skateboard demonstrations right outside of the gallery and leading a game of SKATE. In the gallery skate videos will be screened and refreshments will be served.
Also exhibiting in July at Ver(a)rt Gallery is Sanctuary Art Center. The Sanctuary Art Center (SAC) is a local non-profit art studio serving homeless and street involved youth ages 13-25. SAC seeks to provide a safe, warm and calm environment to help youth experience creativity and success through various artistic media. The focus of Sanctuary Art Center's instruction is on creating meaningful relationships with the youth they serve as they are guided through the art making process. All of the featured artists are guests of Sanctuary Art Center. Curated by SAC's Volunteer Coordinator Caroline Falt.
Nova Dead Rats
June 9-27, 2010
Nova Dead Rats
Reception and live painting June 8th 7 - 9 pm
Ver(a)rt is pleased to announce its June show, featuring art from Nova High School Students. Nova High School is a group of ninth to twelfth grade students who are creative & independent thinkers, whose eyes and ears see & interpret life in new and exciting ways. Courageous enough for any medium, their artwork is ecle…ctic and exploratory. Graffiti, encaustic, sculpture, printmaking… they got it plus a rad education.
For the opening reception, Ver(a)rt welcomes Gallery 40 who will be engaging in live painting. Gallery 40 is an installation designed to examine the idea of what it means to be a gallery and to promote the concept that sharing what we learn through the artistic process is an important part of the creative experience. This 40 sq. ft. mobile art "gallery" promotes the work of new and emerging artists all around Seattle.
From Conceit to Concept
May 4-25, 2010
From skateboards and comics to screenprint, stencils and paint, but not necessarily what you'd think.
From Conceipt To Concept, May 2010:

Featuring:
Dave Vander Maas
Giancarlo De Marchi
Tom Patterson



Ver(a)rt Gallery Presents: FROM CONCEIT TO CONCEPT
WHEN: Opening Reception Friday May 7th, 5-7pm
Show runs May 7th through May 25th
WHERE: Ver(a)rt Gallery at the Vera Project
Seattle Center: Warren Ave N & Republican St
WHAT: From skateboards and comics to screenprint, stencils and paint, but not necessarily what you'd think.
Showing for the first time in Washington State, Dave Vander Maas (Portland), Giancarlo De Marchi (PA) and Tom Patterson (PA) are long-time friends coming together for a group show at Ver(a)rt Gallery, exhibiting both individual and collaborative works.
Dave Vander Maas - "I'm influenced by BMX and skateboarding and their respective cultures. I make art as a means to deal with whatever is going on in everyday life. My subjects are mostly symbolic and left open for interpretation by the viewer. My art is usually done in acrylic on found wood."
Giancarlo De Marchi - "I'm influenced by comic book art and skate graphics. I began in my youth by directly copying these images and gradually learned from this practice, applying these skills to my work now. My work is a collage of many of my drawings that creates a cohesive piece of art. I want my work to be subjective and for people to be able to interpret it in their own ways."
Tom Patterson - "The process itself of making art is most important to me; it feels like a meditative state when I am in my studio working. My work reflects the mood I am experiencing at the time, but my emotions are not more important than the image itself. I want to make work that is visually appealing for the viewer. I want my art to be viewed the same way I view art; that is, to look at it and not into it. My work is print based with a focus on screen print on paper."
All three artists will be attending the opening. For more information, please contact .(JavaScript must be enabled to view this email address).