Tuesday's A Drink for the Kids!
Posted 06.26.2012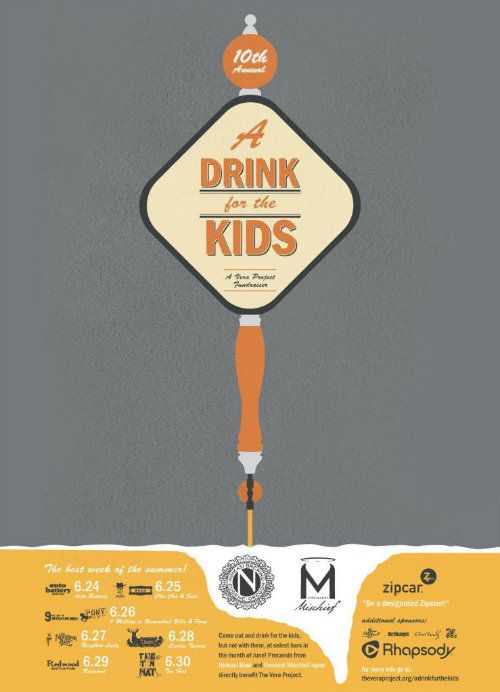 Come out for Tuesday's A Drink for the Kids in Fremont and Capitol Hill!
We are super excited about Tuesday's A Drink for the Kids events, and
we think you should be too! We'll be at two bars in two different
neighborhoods: 9 Million in Unmarked Bills in lower Fremont, and Pony
on Capitol Hill. 9 Million and Fremont are new locations for us this
year, and we were siked to have our friends Billy O'Neill, Jamie
O'Neill Salon, and Eyes on Fremont step up to host the event. Fremont
Mischief's headquarters/ distillery are just a few blocks away, so 9
Million is their home bar as well.
We caught up with our friend Nate Ogura and got some details about our
new partner, Eyes on Fremont. An added bonus is that Vera founder
James Keblas is part of Eyes on Fremont's Fight Evil advertising
campaign. Check upcoming editions of The Stranger for an Eyes on
Fremont ad featuring James.
Vera: What is your favorite thing about working at Eyes on Fremont?
Nate: The eyewear industry as a whole is in this really fun crossroads
between fashion and function. It makes for a lot of really fun
situations where aesthetics aren't always the final say, but things
are still far from utilitarian.
V: What led you to partner with The Vera Project?
N: Music, art, style, culture, fashion…I feel like they're all really
intertwined, ya know?
V: What music and other forms of art impacted you growing up?
N: Well I'm 31, so the Seattle music scene of the nineties had a pretty
huge impact of course. But I was really into a lot of skate punk too,
bands like Lagwagon, Swinging Utters, Face to Face etc.
V:What are a few of your favorite things to do in Seattle?
N: Just being here in the Summer is good enough for me. Take trips in
the winter and just enjoy Summer here, I don't think there is anywhere
prettier than the Great Northwest in the Summer. Now if it would just
get here this year.
__________________________________________________________________________________
The A Drink for the Kids at the Pony is hosted by our friends Derick
Erdman, Hardly Art, and Vera staff member Alix Kolar. Hardly Art puts
out great records by groups like Grave Babies and Jacuzzi Boys (find
some new summer jams here: http://hardlyart.com/), Derick Erdman is an
artist and one of our favorite men-about-town (check out his work
here: http://www.derekerdman.com/), and Alix is an irreplaceable
member of the Vera management team. Thanks for hosting, all!
Hope to see you at Pony (starts at 6:00 pm) or 9 Million (begins at
7:00 pm)! As always, 100% of the proceeds from sales of Ninkasi IPA
and Fremont Mischief will benefit programs for all-ages at The Vera
Project. This event is presented by Rhapsody and The Stranger with
support from Zipcar.