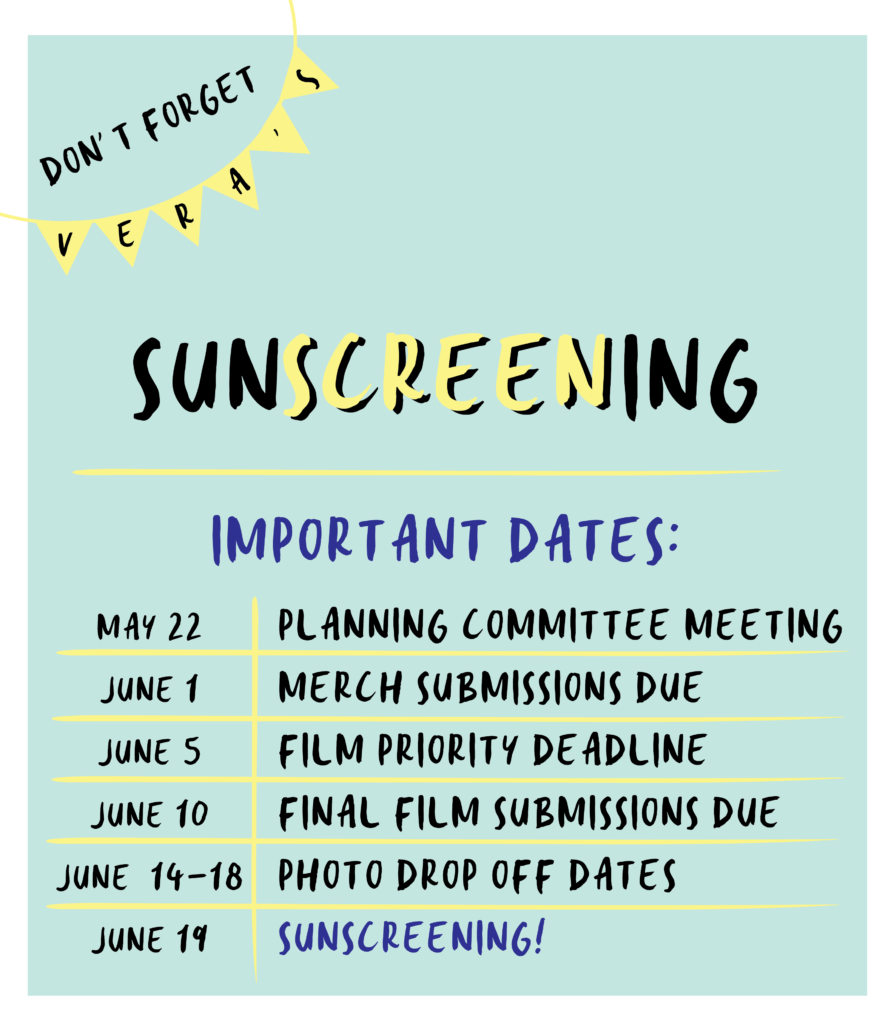 VERA is hosting Sunscreening: A Youth-Driven Visual Arts Showcase on June 19th to highlight work from our membership, amplify our youth film community, and explore new potential programs with rad community partners. We'll be hosting a concert photography pop-up show, a summer merch design competition, and a music-driven short film showcase with our friends at National Film Festival for Talented Youth (NFFTY), SIFF, and Reel Grrls all on the same night!
In order to make all of this possible, we need your help!
See below for info on how to get involved and submit you photos, film, and merch designs. *We want to show off your art*
1. Film Showcase:
Centered around a theme of "Young Voices in Music", our film showcase will feature short films, music videos, and mini-documentaries of all varieties & genres that highlight the experiences of our community in the DIY, music, and, activist scenes both in and outside of VERA. Your submissions will be screened alongside nationally renowned works from SIFF 2019 and NFFTY, highlighted on VERA & Partner socials, and periodically included in future events.
Submit your short film or music video from today until Monday, June 10th to be included in our showcase.
Submissions must be related to our overall theme, less than 10 minutes in length, and sent through the following link: http://bit.ly/sunscreeningfilms
*Films of all quality and production value will be accepted, whether they're professionally shot or just recorded on your phone.
2. Summer Merch Competition:
We are currently accepting designs from our community for shirts and stickers to be used at all of our summer outreach events! The winning designs will be revealed at this showcase & promoted all summer long.
Submissions are due June 1st and can be submitted at: http://bit.ly/sunscreeningmerch
-T-Shirts need to be a design that can be screen printed (1-2 colors) & must include VERA
-Stickers just need to fit the dimensions listed on the form & include VERA
3. Concert Photo Pop-up:
We're doing a pop up concert photography gallery show! In addition to being displayed at this kickoff event, we're also showing off your work The Vera Project Presents Search Party on July 6th!
Artwork submitted must follow these parameters:
-Multiple photos may be submitted, not exceeding a total space of 18x24in (if you submitted 3 photos, then all the photos displayed together cannot be bigger than 18x24in)
-Ready to hang
-Theme of the show: Concert Photography
-Drop off period: 6/14, 6/15, 6/17, 6/18, 12pm-5pm
***To drop off work, check in with Kelly at the front desk.
-Label the back of your piece with your name, email, and phone number.
-To submit, please fill out this quick form: http://bit.ly/sunscreeningphotos
***To get involved in planning the kickoff, reach out to ricky@theveraproject.org and/or jessica@theveraproject.org!!! ASAP***