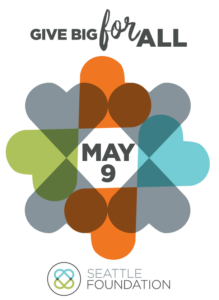 You can schedule a gift for May 9th ahead of time, participation without the pressure!
GiveBIG
 is a 24-hour online giving event hosted by the Seattle Foundation on May 9th 2018. 
GiveBIG is one of VERA's biggest fundraising days of the year, and the LAST ONE that Seattle Foundation will be hosting. 
This year, every donor at any giving level will be invited to a super select VERA show in June! PLUS additional incentives (*cough* NEW MERCH *cough*) at specific donation amounts. 
Let's make it a great year for yr favorite nonprofit all-ages music & arts venue!!