Announcements
Fall Online Classes @ The Vera Project
As we are entering our 7th month of the COVID-19 outbreak, The Vera Project is plugged in with a wide range of online programs, from Vera TV [veratv.org] to new advocacy initiatives and educational workshops. Vera staff and instructors have been working particularly hard to create a new slate of online classes.  These classes are tailored toward skills you can use at home to keep the "Do It Yourself" spirit alive. 
During the pilot this summer, students could take classes in new and familiar topics: from zine-making to audio production; from pilates to live streaming. Following the success of this summer, The Vera Project will continue to regularly offer online classes to meet the needs of our community. We reached out to some  instructors to share their thoughts on this exciting new time at Vera. 
Shannon Bodrogi, a local printmaker, textile artist, and owner of Psiclops Press teaches MonoMerch: Embroidery & DIY Culture. Not only can you expect to learn fundamental stitches to start your next embroidery project, but Shannon creates a class culture that fosters a creative community and uplifts students. "We start sessions off with get-to-know you activities and project check-ins, and end them with exercises for presence and well being. There are group discussions and a few assignments which challenge folks to practice the stitches, and hopefully end up with some embroidered pieces by the end of the three weeks." They stumbled into embroidery after a merch project mishap and have been incorporating it into their music projects ever since. New to Seattle, Shannon began teaching at Vera in June. " I am really pleasantly surprised by the genuine relationships the virtual space has fostered for me without the barrier of proximity."
Online classes are a helpful tool for community members seeking connection and creative outlets amidst quarantine and protests for racial justice. One of Shannon's students shared in a testimonial: "I loved that besides learning the technical skills, we also as a class got to connect as people during these isolated times, reflected on how embroidery can be grounding and a self-care technique and how Shannon created space for us to discuss cultural appropriation in the world of embroidery. " 
Another instructor, Lilian Davis, is a local record producer, audio engineer, and our very own Audio Committee chair at Vera. She teaches both Music Mixing & Mastering and the Lyric Writing Workshop. You can expect a collaborative approach in both classes, distinguishing her courses beyond YouTube DIY videos. "The big benefit of any class, whether in person or online, is access to the knowledge and experience of everyone involved; not just me, but the other students as well. We're all there to learn, and while I may be the one presenting on the topics of the class, the best parts aren't what I'm initially presenting, but where the interaction from the students, their questions and experiences, take us." Lilian brings years of professional experience, a love for the Vera Family, and her knowledge as a community leader to the table when instructing. "I got into it because I love music, and am fascinated by music technology. I love that I get to work with all sorts of artists and work on projects that span genres." 
Enrollment is open for four classes this November & December:
MonoMerch Embroidery, Nov 10 – 24, 6-7:30pm, $55-65 plus optional $20 embroidery kit
Basics of Live Streaming, Nov 8, 3-5pm, $15
Zine Making 101, Nov 9-23, 6-8pm, $40-100
Gig Poster Design, Wed Dec 2 – 23, 6-7:30pm, $70
Scholarships [link: https://forms.gle/VEQUZ3afxyNRyosx6] are available upon application. Be sure to keep an eye out for an announcement for classes in  2021 soon!
We hope you are staying safe during this time and aren't too sick of the view from your home workspace. Classes are a great way to keep connected to the Vera community, meet new people, and find new ways to express creative freedom. We hope to see you as soon back in the venue when safely possible, but for now, we can't wait to see your faces virtually!
To learn more about online classes and register, visit http://theveraproject.org/classes/.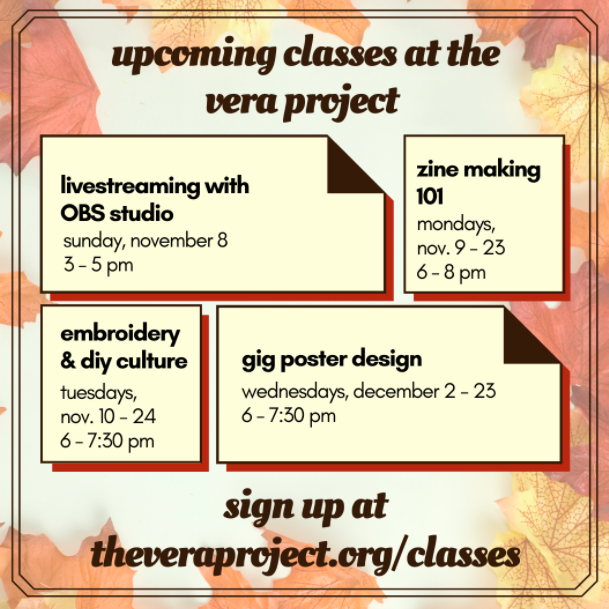 ---