Career-Connected Learning
The Digital Production Lab is a free, multi-month career training program for BIPOC, LGBTQ+, and underserved youth (ages 15-24) to gain skills, professional resources, and access to paid work in creative media industries.
Two Program Pathways
The Learning Cohort is a series (30+ hours) of introductory workshops and creative project for 10-12 passionate young people interested in videography, audio engineering, and design production. Gain knowledge and skills directly from industry experts, meet and collaborate with passionate peer artists and engineers, and receive a stipend for creating a final project, premiered in June. No experience required!

Interns are paid to work 15 hours/week alongside Vera staff and industry leaders as a cohort mentor and lead production manager for the final showcase event. This opportunity is tailored to people with some prior experience or skills in audio, design, and/or videography with an interest in developing leadership skills and sharing their knowledge with peers.

Image: Designer Jenica Cruz discussing values-based design and branding with the Fall 2021 Production Lab Cohort.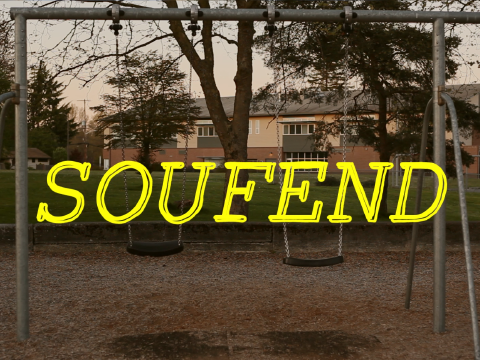 Equipped to Create
To help sustain their long-term creative goals, participants are granted up to $500 to purchase tools and materials to keep, as well as lifetime access to Vera's free Lending Library, which includes production equipment such as audio gear, laptops, lighting, GoPro cameras, and more.

Nearly all pilot participants received paid gigs through Vera and our partners in the creative industry, or had work featured at a local event or festival within the following year. Eligible participants have the opportunity to join GZ Radio, our youth-driven multimedia platform that hires youth to capture, edit, design, and host community-based content.

Image: Title card from Ruby Lee's short film and final project, "SOUFEND," officially selected for Northwest Film Forum's 2021 Local Sightings Film Festival 2021.
2022 Program Dates
Join the 2022 Digital Production Lab Cohort to view installations, live performances, screenings at this celebratory event curated by Intern Violet Bethea.

Internships begin on February 21 and end June 24, 2022. Interns are expected to work 10-15 hours a week (semi-flexible hours), and attend at least half of the workshop dates listed above.

The Showcase is scheduled for Sunday, June 5, time and location TBD.

Image: A behind-the-scenes still of character concept design from Sorel Nica's animated final project.
Check the 2021 Showcase on Vera TV
Deadline: February 2 at 11:59 PM
Apply for the Spring 2022 Program
Application Form