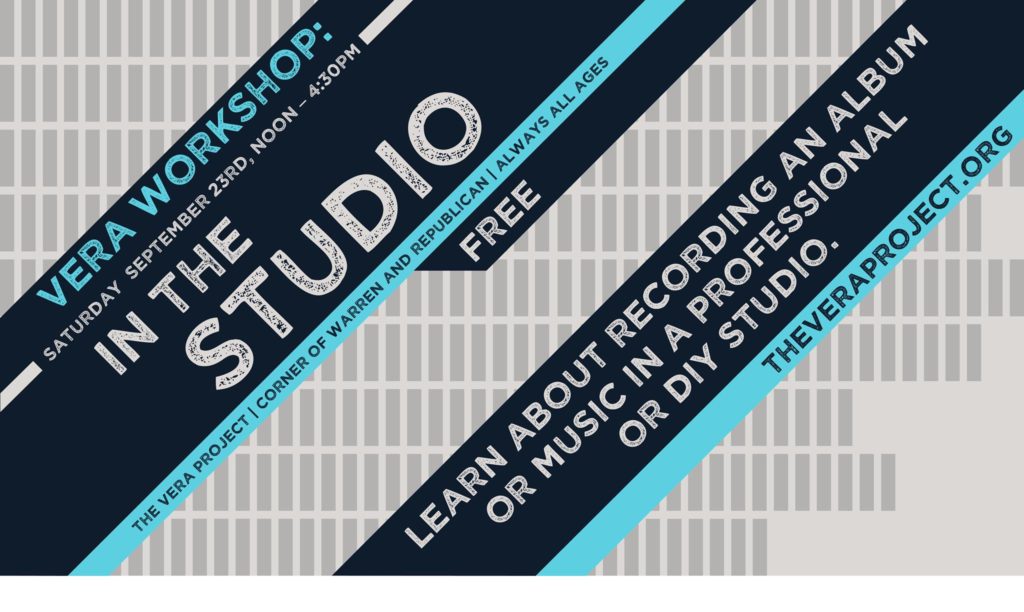 The Vera Project Presents
Vera Workshop #3: In The Studio
REGISTER HERE: https://goo.gl/forms/JBUxmRYxl7mON3QY2
Learn what it takes to succesfully record an EP or an album from the experts who do it for a living! From DIY recording to professional studios, from recording to mastering, this workshop will teach you what it takes to create a great release for your band or project.
12:10 – 12:20PM
Opening & Ice Breaker
12:20 – 12:50PM 
Keynote: Critical Listening
This opening portion of the event features an industry professional playing 5-8 recognizable songs and relaying their recording information. In this session attendees may hear something that sounds like their own music. 
1:00PM – 1:30PM 
Conversation One: What is a Recording Studio?
Who do you encounter in the studio? What is a studio? Role of the producer – why would you need this? Role of the engineer. What are my options in Seattle?
1:45PM – 2:30PM
Conversation Two: Pre-Production Panel
What do I need to do before I start recording? Artists, a studio owner, and an engineer discuss balancing budget vs comfort vs quality, how much time preparation takes, what exactly a producer is, and why recording is so different from artist to artist and studio to studio. Also features some discussion of DIY vs Professional and everything in between. 
2:45PM – 3:45PM 
Break Out One: DIY vs Professional – I've never been in a studio! Help!
2:45PM – 3:45PM 
Break Out Two: Recording A-Z (step by step guide) —– Recording to Mastering
3:50PM – 4:15PM 
Wrap-Up: A Brief Look at How to Leverage your Recordings
This workshop features the wise words and expertise of…
Ernie Ashwood (The Complex Dialect)
Maria-Elena Juarez (Acapulco Lips)
Paul Morgan (WisCon)
Ian Kurtis Crist (Health Problems / Bat / Bosnia)
Eric Lilavois (London Bridge Studio)
Jeffery M. McNulty (The Vera Project / The Killroom Studio)
Lilian Davis (The Vera Project / London Bridge Studio)
Ben Jenkins (The Killroom Studio / Killroom Records)
REGISTER HERE: https://goo.gl/forms/JBUxmRYxl7mON3QY2